Xero Shoes was founded by husband-and-wife team Steven Sashen and Lena Phoenix in 2009. A sprinter and hiker, Sashen and Phoenix (respectively), were inspired to create a barely-there running shoe after reading Born To Run, a bestselling book by Christopher McDougall that suggests the healthiest way to run is barefoot—minus the possibilities of rusty nails, cold, etc. Evolving from a one-off huarache sandal to a full on brand, Xero shoes are all built off a natural movement philosophy.
The Coalton packs all of that running/comfort technology into an attractive, ultra lightweight Chukka boot. Featuring Xero's foot first design, the Coalton is made from supple leather that molds to your foot with a huarache-inspired heel strap to hold the foot securely. Dual-chevron tread has great grip on a thin and flexible 6mm FeelTrue sole. The sock liner insole is removable for those who want even more of a barefoot feel. The Coalton shoe is the perfect option for anyone and everyone, especially loved by fans of the brand's running shoes and sandals who are looking for a stylish, more closed-up everyday option.
Five-minute review:
Best for: Barefoot converts who never want to put shoes on (but have to conform to social norms now and then). As quoted in Apparel Magazine, cofounder Setven Sashen describes the customer base as, "Think Whole Foods…It's Millennials-plus, 65-percent men, slightly higher educated, slightly higher income, somewhat iconoclastic."
Not ideal for: Shoe-loving normals. If you're used to a supportive shoe, this is going to feel quite out of your comfort zone (literally). Xero shoes are founded on the premise that being barefoot is healthiest for your foot, but those used to a more substantial shoe may feel that they aren't getting enough from the Coalton. Fans of the brand will swear anyone can become a convert, however, and won't want to return to wearing normal shoes. These are sturdy enough for hiking but thin, unlined leather won't keep your feet warm in colder months. The Coalton are a great three-season option, but don't consider these a snow boot by any means.
Materials: Supple leather upper on thin, flexible 6mm outsole. The brand suggests removing the insole sockliner for a true barefoot feeling. Dual-chevon tread provides grip while a huarache-inspired heel strap secures the foot.
Sizing: Overall, Xero shoes says the Coalton should be your normal shoe size. But the brand admits that sizing isn't a perfect process, so they recommend measuring your foot for the most accurate fit. (If the size isn't right, the brand has a free exchange policy.) Xero also notes that if you think you're "between sizes," go up 1/2 size.
Xero offers a simple series of steps to gauge your accurate size: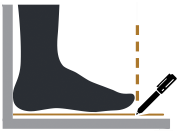 Place a piece of paper against a wall.
Place your foot on the paper, with your heel against the wall.
Make a mark on the paper at the furthest point away from the wall… this will either be just in front of your big toe or second toe
Take a ruler and measure from the edge of the paper to the mark you made.
Once you have your measurements, the brand offers the following sizing information:
The verdict: Do you hate wearing shoes? Do you wish it was appropriate to wear sandals to every occasion? If the answer is yes, the Coalton get an absolute thumbs up for a great-looking casual shoe that has a dressed-up aesthetic with a low profile, ultra minimal feel that is absolutely worth the $140 price tag. If you're looking for a sturdier winter boot to offer more support, coverage and protection, this isn't your brand. Need more of a testimonial? Just ask this guy:
In-depth review:
Comfort: 9/10
From all accounts, these shoes are incredibly comfortable. They are true Zero Drop shoes, which means the heel is at the same height at the ball of the foot. This is intended to reflect what your foot does naturally when you're standing on a level surface in bare feet. Most shoes, and running sneakers in particular, have a heel, and the "differential" can be as much as one inch. With no heel whatsoever, Xero shoes will feel quite different than what you're used to. But if you believe in the barefoot science, they are very healthy to your foot.
Testimonials swear the Coalton ridded them of knee, ankle and hip pain as many physicians recommend walking in bare feet as much as possible. The science behind this style has a wide, anatomically correct toe box to let your toes spread and relax. It also has a natural motion and feel that lets your feet file and move and connect with the ground thanks to the brand's patented FeelTrue sole. Last, they are extremely lightweight, weighing in at 12 ounces each for a men's size 9.
While many converts argue this is the most natural way your foot should function, those who have foot problems and are used to more arch support, or even custom orthotics, won't get the support you need from this shoe, which is inherently designed to act as if you are walking barefoot.
Style: 8/10
People who love being barefoot can wear the Coalton anywhere. Its sleek leather and minimalistic look makes the style appropriate for work, meetings and even dressed-up occasions with a suit. The low profile outsole means that your barefoot feeling can be your secret, while appearing to conform to the shoe-wearing norms of society. Available in black or tan, the chukka has heritage styling that will look great with chinos, jeans or even shorts—especially since you don't need socks with these shoes. If you're looking fora  dressier style, the black option looks a bit more sleek and minimal than the tan, which has rough leather laces.
The only place they lose style points is the wide toe box. While this is designed for comfort to let your toes spread to their natural position if you were barefoot, the look is of course wider and can be a little floppy looking. Yes, you gain the comfort of letting your foot rest in its natural state, but bottom line, it just won't look as slim and attractive as your average dress shoe. But most converts to Xero shoes will argue this trade-off is a no brainer.
Durability: 9/10
Low profile shoes can be known for being on the flimsier side, due to their lightweight nature. Made from genuine leather, Xero shoes are surprisingly durable. Even better? The sole has a 5,000 mile warranty—that's better than you'll get on a new car! The only complaint wearers had was on the Mesquite color's leather laces, which can break if you aren't careful. They can easily be swapped with brown cord laces to get more miles (5,000, to be exact) out of these shoes.
SaveSave
SaveSave
SaveSave