In the book Born To Run, Christopher McDougall unveils the superhuman abilities of the reclusive Tarahumara Indians of Mexico's deadly Copper Canyons. Their secret? Running barefoot. So inspired by that book, husband-and-wife team Steven Sashen and Lena Phoenix (a sprinter and hiker, respectively), founded Xero Shoes in 2009. Evolving from a one-off huarache sandal to a full on brand, Xero shoes are all built off a natural movement philosophy and the idea that the healthiest shoe to wear is actually no shoe at all. The Ipari Hana was the brand's answer to a closed-up shoe that felt like nothing at all.
Ipari is Xero's category name for closed-toe shoes, inspired by "rarajipari," a running, ball-kicking game the Tarahumara play. It's an endurance game with a focus on fun (much like the brand's ethos itself). Hana was named after the town in Maui, Hawaii that exemplifies casual adventure, also translating to "craft" in Hawaiian. Put together, that spells out a casual shoe that's well made and ready for your next adventure.
Five-minute review:
Best for: Casual adventure goers who would prefer to go without shoes in general. While not technically a running shoe, the Hana is built for short jaunts, hikes, or just days out an around town. It's a great travel shoe for those who live the barefoot lifestyle that offers full coverage and warmth in cooler months.
Not ideal for: Dressed-up occasions, people not used to zero-drop shoes. Xero shoes are meant to mirror how your foot would feel barefoot, but it can take some adjusting and those used to more arch support may feel some pain going straight to a Xero shoe. But those who live the barefoot lifestyle will swear these shoes can make you a believer!
Materials: Canvas upper, vegan-friendly materials. FeelTrue rubber sole, optional 2mm insole on huarache-inspired design with heel and instep strap.
Sizing: Overall, Xero shoes says the Hana should be your normal shoe size. But the brand admits that sizing isn't a perfect process, so they recommend measuring your foot for the most accurate fit. (If the size isn't right, the brand has a free exchange policy.) Xero also notes that if you think you're "between sizes," go up 1/2 size.
Xero offers a simple series of steps to gauge your accurate size: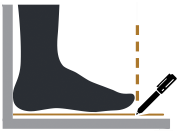 Place a piece of paper against a wall.
Place your foot on the paper, with your heel against the wall.
Make a mark on the paper at the furthest point away from the wall… this will either be just in front of your big toe or second toe
Take a ruler and measure from the edge of the paper to the mark you made.
Once you have your measurements, the brand offers the following sizing information:
The verdict: For those who love the barefoot lifestyle and are a fan of Xero's sandal line, the Ipari Hana is a great closed-up option for short jaunts, weekend adventures and traveling anywhere. The style is ultra lightweight and the brand boasts a 5,000 mile warranty on the sole. Hardcore wearers go without the 2mm insole for a true "barefoot" feeling. Those who are used to more arch support may want to transition to a zero-drop shoe with something with a little more support first. For $80 and 5,000 miles, the Hana is a great shoe to try.
In-depth review:
Comfort: 9/10
Like all Xero shoes, the Ipari Hana are based on the brand's natural fit, function and feel premise. The fit means the shoe has a wide toe box that lets your toes spread and relax (as they naturally would without shoes). The style also has a zero-drop construction, which means there is no elevated heel and they're low to the ground for proper posture, balance and agility. The function component means the Hana is flexible enough to let your feet bend, move and flex the way they're naturally intended. And at only 8 ounces per shoe for a men's 9, they are so lightweight you'll forget you're wearing shoes. Which segues to the last component: feel. Featuring the same 5.5mm FeelTrue rubber sole as the brand's Z-treck sandal, the Hana offers protection from the elements while providing great ground feedback.
If you aren't used to a zero-drop shoe, however, the Hana may be a shock to your system. The idea is to train your foot to walk differently (not landing heel first as with regular shoes). Some reviewers suggest starting with options that have a little bit of support, like Merrells with Vibram outsoles. Others mention that the uppers will feel a little stiff at first but will soften after a few days of wear.
Overall, most wearers are extremely happy with the Hanas and report they are more comfortable than comparable styles like VivoBarefoot. With very little padding, these is room to add an insert if you prefer, which some say is needed for walking on hard surfaces—the barefoot premise is founded on walking on dirt/grass, but we all know modern life is a bit different.
Style: 7/10
The Ipari Hanna have a nice understated look but the style is definitely outdoorsy. They look great for traveling, hiking and weekend adventures but have more of a "granola" look, especially in the black/rust color option. The black-on-black Hanas offer the most versatile look paired with jeans, shorts or even khakis. The canvas upper offers a nice three-season casual look and has that super lightweight construction.
The shoe has a soft suede-like lining that makes the style super comfortable without socks, and therefore much closer to that barefoot feel. They are a great traveling shoe and easy to slip on on the go. Or the flexible heel makes it easy to step on the back and slip on like a slide for a short jaunt like walking the dog.
Durability: 8/10
Xero shoes have a 5,000 mile durability on the rubber sole, so you can feel good about the lifetime of this shoe. Most rate this look as extremely durable, which can be tough for such lightweight styles. Some wearers noticed the sole peeling back from the upper after a short time. Canvas is also not going to be a forever option due to its fabric construction, but complaints of holes and wear and tear were practically non existent. Overall, wearers rate these are more durable than similar minimalistic styles like Lems and Soft Star.
SaveSave